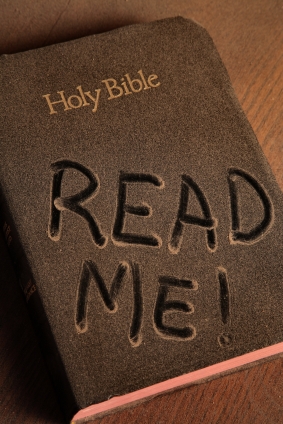 My 2016 sort-of New Year's Resolution was to read the Bible in a year. I've not tried it before - and it wasn't until the start of February that I decided to go for it. I'd read all of Genesis in 2015, so in order to catch up, I started with Exodus. The church I attend was providing reading plans showing that it was possible, and what to read each day. I started February by keeping track and ticking boxes, but then I lost my reading plan in the middle of May 2016 - and carried on anyway. I didn't quite manage it (it's late January 2017 and I'm still in 1 Corinthians), but here's what I learned.
1. Reading the Bible in a year is a lot like running the four-minute mile. It's likely that you'll be so busy trying to read your daily quota and trying to keep up the pace that you won't have much time to think and you certainly won't get chance to smell the roses. It's relentless, and if you start slowing down, you'll need to up your pace for the following days just to keep up. If you want to read, consider, ponder and meditate on the Bible, then you're going to have t

o go more slowly.
2. If you read the Bible chronologically in a year, you're in for a tough ride. If you read it sequentially (from cover to cover, like I did) it's going to be challenging. For a start, you won't meet Jesus in the flesh until September or October. That's a long time. You'll get plenty of hints and clues about him, but he doesn't arrive until the last quarter of the year. Hang on in there.
3. It's more fun reading it when we're winning. Moses, Joshua, Saul, David, Solomon, Gideon and so on - all big winners, and all interesting and easy to read. It's definitely easier than some of the later stuff, when it's doom and gloom

;

exiles and punishment

;

warnings, wrath and judgement. The narrative of the early Old Testament is more straightforward than some of the

symbolic stuff that comes later on.
4. April will feel like a repeat of March as you read 1 and 2 Chronicles after 1

and

2 Samuel and 1

and

2 Kings.
5. There are spoilers all the way through the Old Testament. The prophets persisten

tly warn about

desolation, destruction and devastation, but they almost all break off briefly to say, "God's going to send somebody to fix all your mess." Keep reading - it's worth it to find these snippets, and they'll keep you going through Lamentations, and the last few minor prophets.
6. Some of it is downright confusing (even the Old Testament). When they aren't warning God's people, or telling them to repent, or reassuring them that God will send somebody to help, some of them even have visions of heaven, or of the distant future. You thought the living creatures and the elders were only in Revelation? So did I, until this year.
7. Your speed through the Bible will probably change dramatically, depending on where you are. It's possible to "read" large parts of Numbers very quickly - 132,000 of this tribe, 89,000 of that tribe, and so on. Remember how I said reading the Bible in a year is like running a four-minute mile? Well, this mile-long track is not flat; you'll definitely run different parts of it at different speeds.
8. When you do reach the start of the New Testament, it'll feel like a breath of fresh air. Yes, there's the genealogy stuff that we had in the early parts of the Old Testament, but it gets going again - and you'll slow down again. There's just so much happening in each chapter. And when I finally started picking up the pace (through Acts), I slowed down again (Romans, with its exceptionally long, parenthetical, phrases, and therefore I couldn't go as quickly - or as rapidly, therefore - as I could through some of the other books).
9. On the subject of the New Testament: one advantage to reading sequentially is that you start to notice themes and patterns that you wouldn't spot if you were just reading sections or passages.
For example: Matthew's gospel frequently refers to "your heavenly Father", which is a very welcome change after God Above in the Old Testament. There really is a massive change of tone between Jesus and the prophets who came before him - Jesus really knows about heaven. Mark - immediately. Jesus is quite clearly in a hurry. Everything is immediately. Matthew spends a few chapters with Jesus' genealogy, birth and childhood. But Mark? "This is the good news about Jesus: this is what he did first", and Jesus has carried out miracles by the end of the first chapter. Luke - I didn't find anything specific in Luke, but John is all about "eternal life." Inheriting it, getting it, having it. I don't remember reading much about eternal life in the other gospels, so John is clearly compensating :-)
10. Regular reading works. I try to read at the same time each day, after the children have gone to bed and are settling down to sleep. This works providing they sleep at the same time, and the rest of the daily routine works. I didn't read as much when we were on holiday, and I didn't read as quickly when they stayed up late or didn't go to sleep as usual. If you can find a fixed, regular time, that'll probably work better.
I
t's now late January, and as I said, I'm working through 1 Corinthians, with a view to completing the New Testament by the end of February... the finish line is in sight!

T

his year, I'm taking a far more measured approach - when I've finally completed

the New Testament,

I'm just going to loop round the gospels for a bit. The aim of reading the Bible in a year isn't really to read all the pages in 365 days. It isn't even to read all the pages eventually (although it's a worthwhile aim). It's to learn to read the Bible regularly. It's not about running a four-minute mile, it's about building strength and keeping fit.