So, there's a meme floating around Facebook, which says, "Well, another day has passed, adn I didn't use algebra once." Really? If it's true, it's not something to be especially proud of. And the likelihood is that it's not true anyway.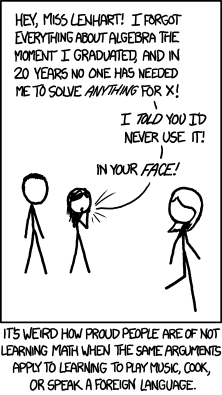 For starters, there are many things that I learned at school that I don't use on a daily basis any more. Foreign languages, for a start (although I probably do use them more than I realise). Do I regularly apply the map-reading skills I learned at school? We have satnavs and apps for that. And do I refer the Stuarts and the Tudors? I suppose I should probably proudly announce that I haven't once consulted a history book this week, and rile all the historians I know. Somehow though, Maths - probably due to its apparent difficulty or complexity - is seen as something that we should abandon, forget or even be proud of ignoring:



"Why do they make us learn math? It's not like I'll ever use it."




"Yeah, it's not like math teaches you how to work out complex problems logically."

However, Maths (and to some extent algebra) still permeates many areas of our life. If you want to cook a meal (and you might), then you'll need to know when to start cooking it, in order to achieve a particular mealtime. Or you might just start cooking as soon as you get home, and eat it as soon as it's ready. But when will that be? How long will it take you to get home if you drive at 30 mph? 40 mph?
And then there are those delightful puzzles on Facebook. You know the sort - if three buckets are equal to 30, and two buckets and two spades are equal to 26, and a bucket and a spade and a flag are equal to 24, what's a flag worth? I really don't think it's possible to solve that problem without using algebra (call it what you will).
Once you assign a numerical value (or a time, or a price) to an item (or a distance), and then start doing any sort of calculation on it, you are doing algebra. Have you ever wondered which was better value in the sales? The Black Friday sales? The pre- or post-Christmas sales?
3 for 2 offers?
Or buy-one-get-one-free?
Or buy-one-get-one-half-price?
And if you have a £10 note in your pocket, and you want to know how many widgets you can buy without overspending... you used algebra. I think it's fair to say that so far today, I have used algebra numerous times - you might even say X times.
Image credit: futurism.com